We've all heard of Amy Butler's Weekender, right? It almost seems like some sort of rite-of-passage to make this bag, one that I have wanted to tackle for a while now. Seeing everybody head to Sewing Summit with their Weekenders made me think even more about starting it soon. I even have an entire
Pinterest board
devoted to all sorts of tips & tricks. Let me know if you have more to add!
Today
Jessica
shared that she's working on another Weekender, a gorgeous blue, green, grey, & yellow scrappy quilt-as-you-go version, and I found out about a
Weekender Blog Hop hosted by Fabric Mutt
. Pink Castle Fabrics is even offering a discount on the pattern (head to Fabric Mutt for the code), add in the possibility of winning prizes, and I'm jumping on board!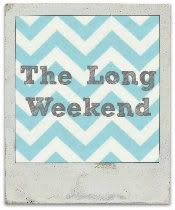 I'll be sure to share my progress here; first things first, I've got to pick my fabrics! I'm going to do my best to stick with what I've already got in my stash, and I do have a couple ideas.
Until next time...